Tribute Artists
Aretha Franklin
Barbra Streisand
Bette Midler
Billy Idol
Billy Joel
Blues Brothers
Bobby Darin
Britney Spears
Bruce Spingsteen
Buddy Holly
Carrie Underwood
Charlie Daniels
Cher
Christina Aguilera
David Bowie
Dean Martin
Diana Ross
Dolly Parton
Elton
Elvis
Faith Hill
Frank Sinatra
Garth Brooks
Gloria Estefan
Gretchen Wilson
Gwen Stefani
Hank Williams Jr.
Hank Williams Sr.
Jackie Wilson
Janis Joplin
Jimmy Buffett
Johnny Cash
Johnny Mathis
Keith Urban
Kenny Rogers
Lady Gaga
Linda Ronstadt
Little Richard
Madonna
Marilyn Monroe
Michael Jackson
Neil Diamond
Neil Young
Prince
Reba McEntire
Rihanna
Ricky Martin
Ritchie Valens
Rod Stewart
Sammy Davis Jr.
Shakira
Shania Twain
Stevie Nicks
Stevie Wonder
Taylor Swift
Tim McGraw
Tina Turner
Toby Keith
Trisha Yearwood
Tom Jones
Whitney Houston
Wynonna Judd
and more...
ABBA
Beach Boys
Beatles
BeeGees
Blues Brothers
Brooks and Dunn
Dixie Chicks
Everly Brothers
Four Tops
The Judds
The Rat Pack
Righteous Brothers
Rolling Stones
Temptations
and more...
INDIVIDUAL ACTS
GROUPS
PICS/PROMO AVAILABLE UPON REQUEST
Media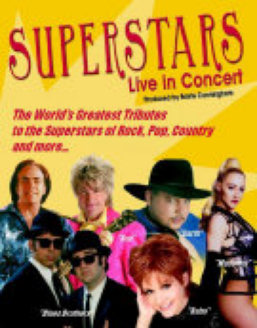 Facebook
SUPERSTARS LIVE IN CONCERT is a full production Las Vegas style show that recreates legendary performances of music's biggest stars from past and present with the top tribute artists from around the world. Our SUPERSTARS look and sound just like the real thing!
Together with the talented SLIC SINGERS and DANCERS in colorful costumes with cutting edge choreography accompanied by the ALL STAR BAND and a patriotic finale celebrating the American Spirit… THIS SHOW HAS IT ALL!
The Ultimate Tribute to the Stars featuring the World's Top Tribute Artists of Rock, Pop, Country and more…