America's Favorite Family Tribute Shows!
SUPERSTAR TRIBUTES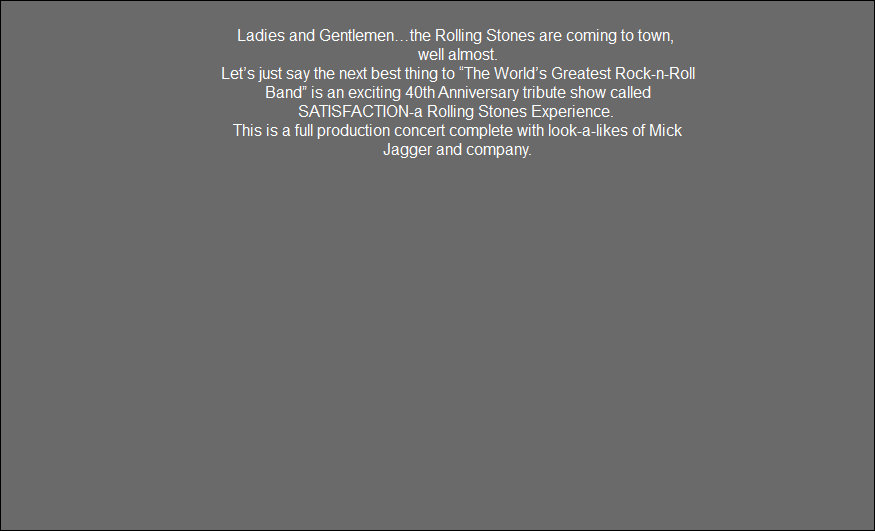 Satisfaction
A Tribute to the Rolling Stones
Forty years of classic hits are performed with the energy of an actual Stones concert performance. The show also includes an acoustic set of popular hits such as "Angie" and "Wild Horses." Lead vocalist, Chris LeGrand, who portrays the flamboyant Jagger role, states "this show appeals to Stone's fans of the past and present. All the big hits are here, "Honky Tonk Women", "Start Me Up" and of course the band's signature classic "Satisfaction."
Formed in the winter of 2000 in Shreveport, La., SATISFACTION'S goal was to bring a realistic Stones show to audiences throughout the USA. National touring quickly brought the show fan and media acclaim in newspapers, magazines and television across the country. Performing shows at fairs, festivals & casinos with such headliners as Ratt, Joan Jett, Starship, Sammy Hagar, Lynryd Skynryd, Jackal, Nazareth, Foghat and more solidified the show's national status. This show has also become a major draw on the college circuit performing for some of the top universities in the country. In 2001, SATISFACTION performed select dates at IMAX theatres in conjunction with the Rolling Stones re-release of their classic concert film "Live at the Max."
SATISFACTION performs annually at numerous charity events including MDA, United Cerebral Palsy and the Shiner's Children's Hospital Organization. Entertaining in over 40 states, 2002-2003 proved to be the year SATISFACTION left its mark on the country. The Rolling Stones toured the world to celebrate their 40th Anniversary as well as releasing a deluxe box set to coincide with the tour. SATISFACTION was honored to visit many of the cities on the Stone's tour for post and pre-concert events. In addition, the group headlines concerts for bike enthusiasts annually for three of the largest gatherings in the nation, Daytona Beach, Myrtle Beach and Sturgis.